More and more, we're prompted for our cell phone number – not for marketing, but for functional purposes. Web sites are using your cell number to text you a verification code, password reminders can't even start without texting you – even the local restaurant will text you when your table is available. Everyone has a cell phone on them all the time and it's the most convenient way to reach you.
The convenience stops abruptly when cell phones are used in a corporate or collaborative environment.
"Whose number ends in -2910?

I'm waiting for the OTP from Intuit!

Which phone are we using for 2FA for XYZ Inc?"
Over the years we've used various apps, services, even burner phones for 2FA/OTP purposes. When we got sent home by Covid-19, everyone felt the immediate sting of signing into services from a new computer. Managing apps, forwarding services and automation scripts that were at times delayed or hit and miss was just not tolerable.
At the same time, we were integrating our wildly successful Email Encryption with TXT (for secure message delivery) and this seemed like a natural extension. Pretty soon we were SMS-enabling everything in our organization and finally having a layer of reporting and management that is critical.
How to enroll?
Just go to our portal at https://support.ExchangeDefender.com and click on SMS Proxy.
At launch, we're making it available with local numbers in United States, Canada, United Kingdom, and Australia. Once you pick your number you can add team members to it and you're done. Every message sent to that number will be copied to other members of your team. It's like a distribution group, but with cell phones – and you can have up to 5 people assigned to each number. Numbers are just $5 / month and include 100 inbound messages.
We've already got it working with a ton of different services (email, Slack, Teams) and we look forward to launching next and exciting services in 2021.
Let's face it – 2020 has been a challenging year. Reeling from the COVID-19 pandemic, many businesses are fighting to emerge from the epidemic with a sense of determination and newly found resilience. SMB's have realized the journey to recovery and reinvention continues.
As this turbulent year concludes, now would be a good time to reflect on some of the more positive aspects, by noting ExchangeDefender's 2020 upgraded features and solutions that were provided launched this year for our clients. Let's take a look at 2020 in review:
Wrkoo – Client Support Software for Service Providers
2020 was Wrkoo's first year in full production and it could not have come at a better time. The pandemic has forced many of us to work differently, straying from our typical office environment and weekly meetings.
We offered, (and are still offering) Wrkoo absolutely free to small businesses, and to our fellow service providers who are trying to keep their business sailing as smooth as possible, despite the current affairs. Approximately 25% of our partners currently use Wrkoo to run their business, and offer seamless client support with Wrkoo. We felt like it was a no-brainer to offer our client support software for free to keep small businesses (like ours) alive. Btw, we use Wrkoo too – have been for years! You can signup for free, here!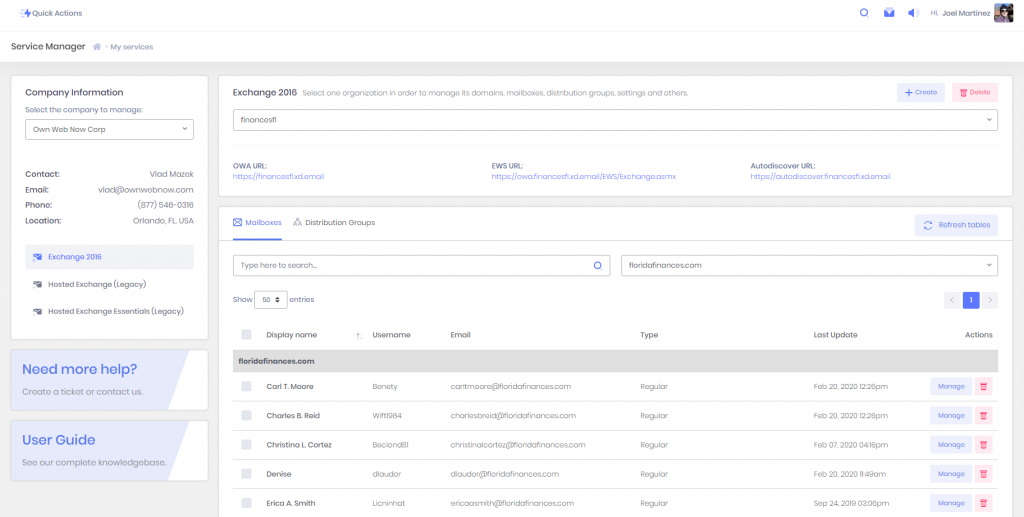 Service Manager for Exchange 2016
The full migration to Exchange 2016 proved to be extremely challenging, but with much success we managed to move ALL our clients hosted with us to the new platform. One of the highlighted changes is that you can access your service manager inside our support portal via support.ownwebnow.com.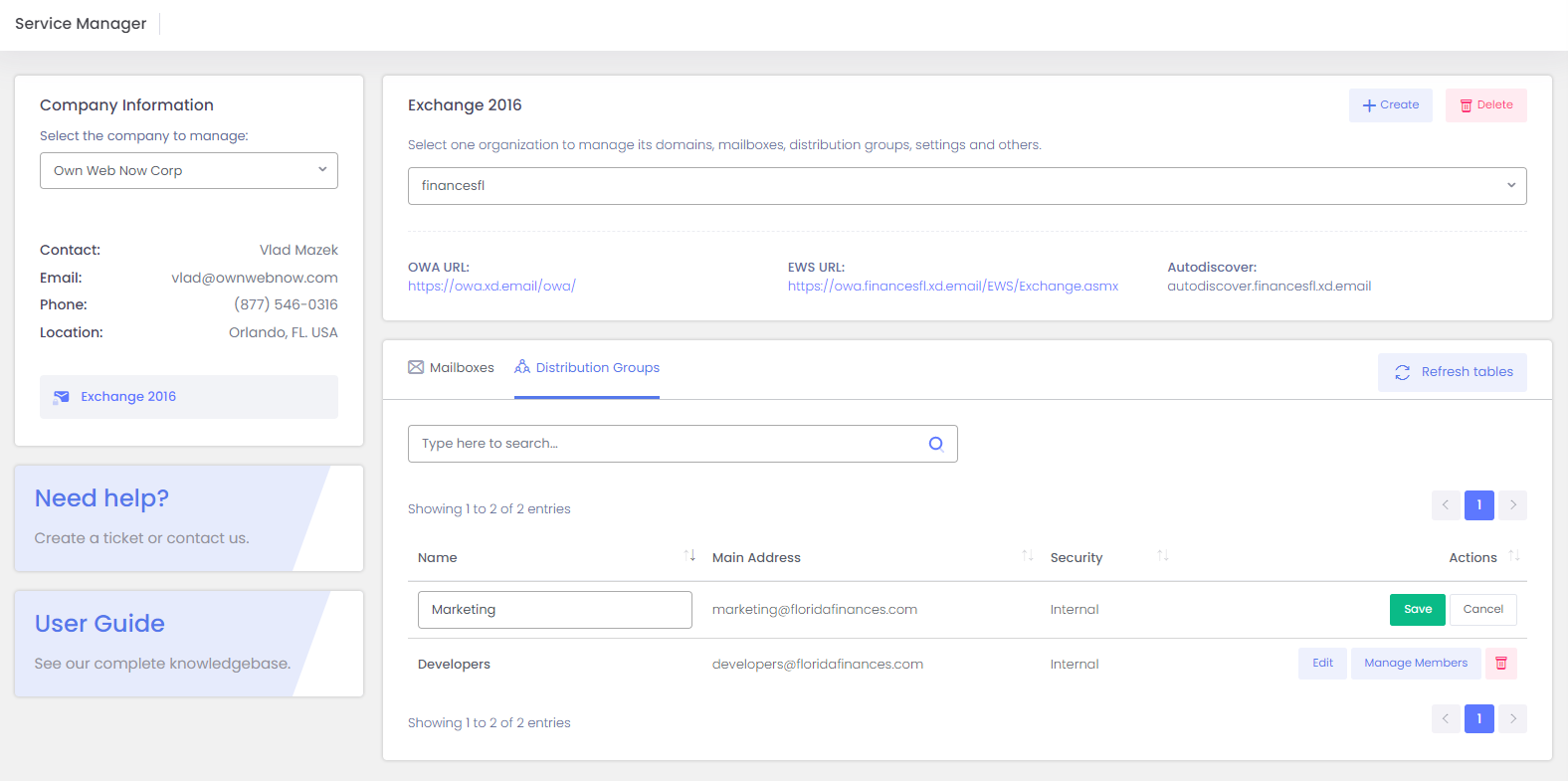 Exchange 2016 Distribution Group Management
Due to popular demand, we created the ability to manage Distribution Groups and External Contacts for Exchange 2016 via our Service Manager located inside the support portal.
ExchangeDefender User Sync Upgrade
ExchangeDefender User Sync Upgrade feature recently got a major upgrade to function with our new cloud infrastructure. This is our favorite way to enroll ExchangeDefender users for two reasons: it is simple and seamless to onboard new users.
Broadcast Messaging
The introduction of Broadcast messages was also hit! ExchangeDefender Broadcast Messages are easy, automated, and free. Partners now can reach all users in their organization using broadcast messages. To use the feature, you'll need to login to the admin portal with your SP account, learn how.
Web File Server UI Upgrade
Web File Server received a second light upgrade due to the high demands of clients currently power-using its file sharing application. WFS is designed to combine the power of old-fashioned file servers with the security, productivity, and collaboration demands of modern web applications. Web File Server is ultimately about productivity and is designed as a service where clients can collaborate and share their document libraries with staff or external recipients. Take the tour!
ExchangeDefender a-la-carte offerings
Moving-on to the ever-popular Rise of "a la carte" offerings at ExchangeDefender. As of June 2020, we offer solutions to be sold individually without ExchangeDefender or mail going through to us at all. These solutions include: ExchangeDefender PRO, Live Archive, Compliance Archiving, Corporate Encryption, and Web File Server.
"Bypass" Disposable Email Addresses
Earlier this year, we created disposable email addresses (available for free) to help users get around some of our security protocols. The most common scenarios are misconfigured SPF/DKIM domains, strict organization policies that wont allow certain attachments etc. You can setup as many disposable addresses as you wish, they can be created and deleted at any time.
Feedback Loop Reporting
The new SPAM Reporting feature enables users to report SPAM messages that get delivered to their inbox in real-time, learn more. The Feedback loop signature settings are located inside the ExchangeDefender Admin portal, please Login as the domain administrator, click on Mail Delivery > SPAM Feedback Loop.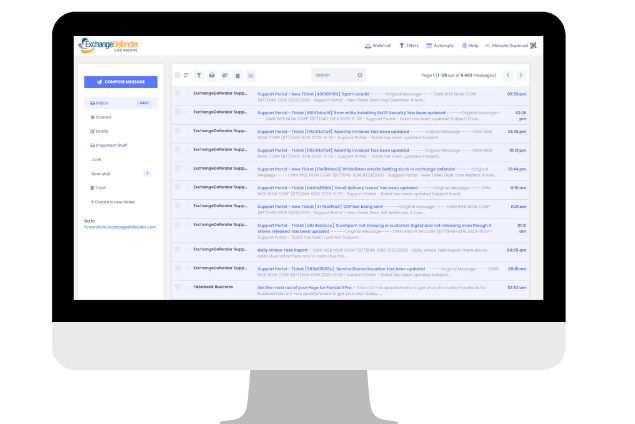 Next Gen Live Archive
Everyone loves New Gen technology! And that was exactly what ExchangeDefender produced with the Next Gen Live Archive. The new LA is now a webmail not dependent on Exchange, Gmail or other major email providers. To understand the full scope of the product, see here!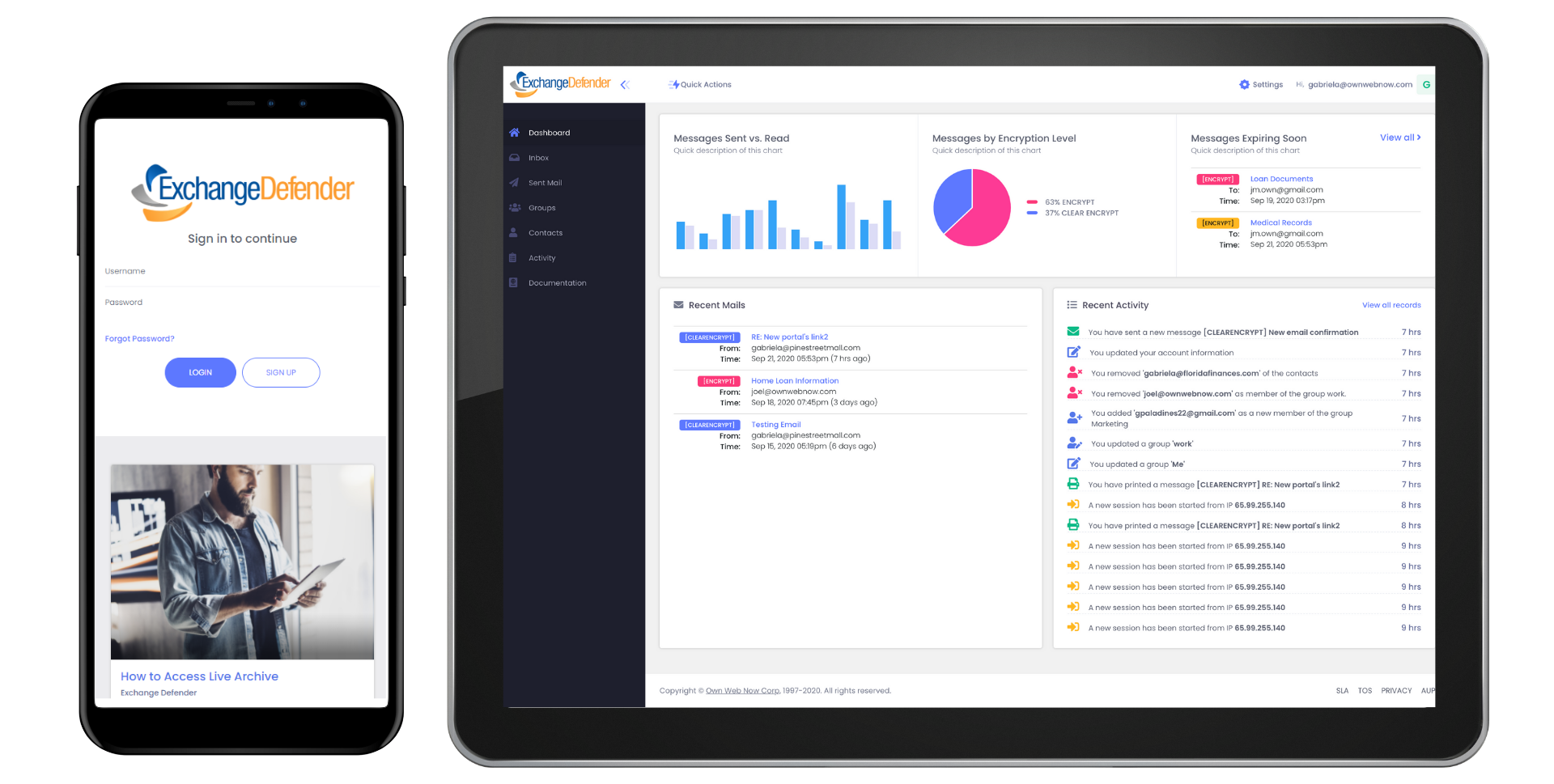 Corporate Encryption
New SMS & Secure Texting Feature shares sensitive information by text message with Corporate Encryption. The new feature has been added along with others, in the new release of our Encryption service that offer users the ability to easily send, and receive encrypted messages via email, url, or text message. It is easy to use, can auto-detect sensitive data, and offers real-time reporting.
Mobile phones (BYOD) have become so prevalent for work, especially with COVID-19 that has caused many of us to change the way we work. The use of our cell phone as a means of productivity is fully recognized. In response, ExchangeDefender provides additional security with 2FA/OTP to enable users to securely share information with clients and colleagues on-the-go.
Hands down, Corporate Encryption has been one of our best sellers. The restructure of the encryption portal was driven solely to enhance the user experience. The Encryption Portal gives users central access to all encryption messages, contacts, advanced encryption options groups, SMS, URL and full audit log.
There you have it – ExchangeDefender has been actively engaged to ensure our partners are provided the latest products and services available.