5 ExchangeDefender services that are currently free
Today we wanted share with you our top five free services that ExchangeDefender currently offers to active users. The key word is "active users", a user must already be using ExchangeDefender to be able to enjoy these additional free options. This is true for all the services mentioned below, with one exception – Wrkoo. Alright, now that we've mentioned the fine print, let's talk about these complimentary services.
Wrkoo – Client support software
Wrkoo is a small business management software that manages all of your daily business activities in one place. It is mainly used by B2B companies that provide a service or product. However, with the rise of online eCommerce, customer support software, or support ticketing systems has increased. WRKOO streamlines your client's interactions. The all-inclusive Helpdesk software is easy-to-use. Thus, providing all the right tools to quickly resolve small business' budget restraints. You can signup for Wrkoo absolutely free, get started right now!
Password Vault – Encrypted password manager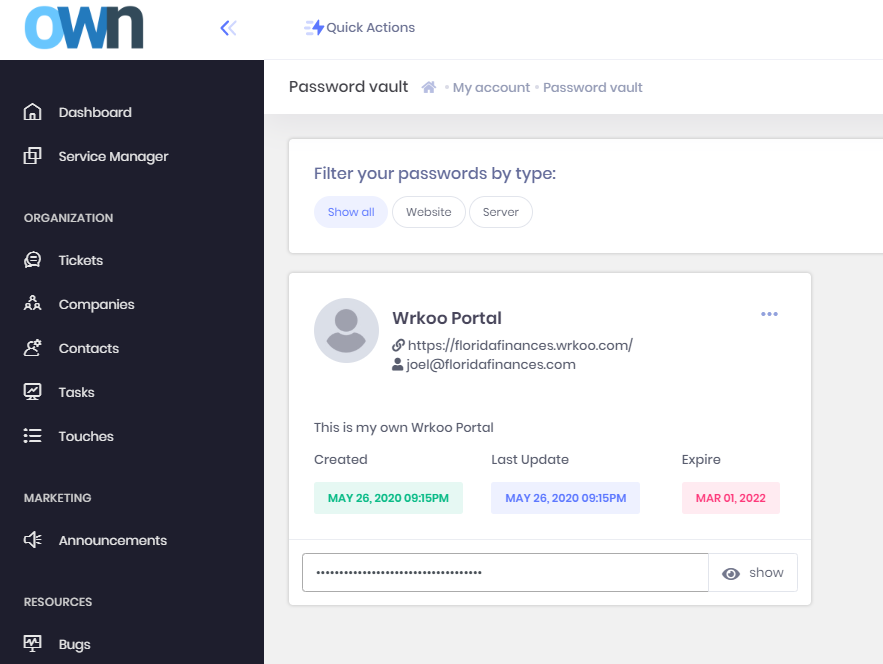 ExchangeDefender Password Vault makes generating, storing, and sharing passwords easy and safe. It features military-grade encryption, unlimited entries, and role-based access controls. The feature is extremely secure and reliable with AES-256 bit encryption. Forgot your password? A password manager eliminates password fatigue as well as memorizing multiple passwords. Here's some information that is good to know – 1) It's free only to ExchangeDefender PRO user, 2) It uses the same credentials as the admin portal, 3) and it meets security and regulatory compliance for SOX, HIPAA, PCI, and more. Learn how to access and setup the password vault, click here.
ExchangeDefender SMS Relay (Beta)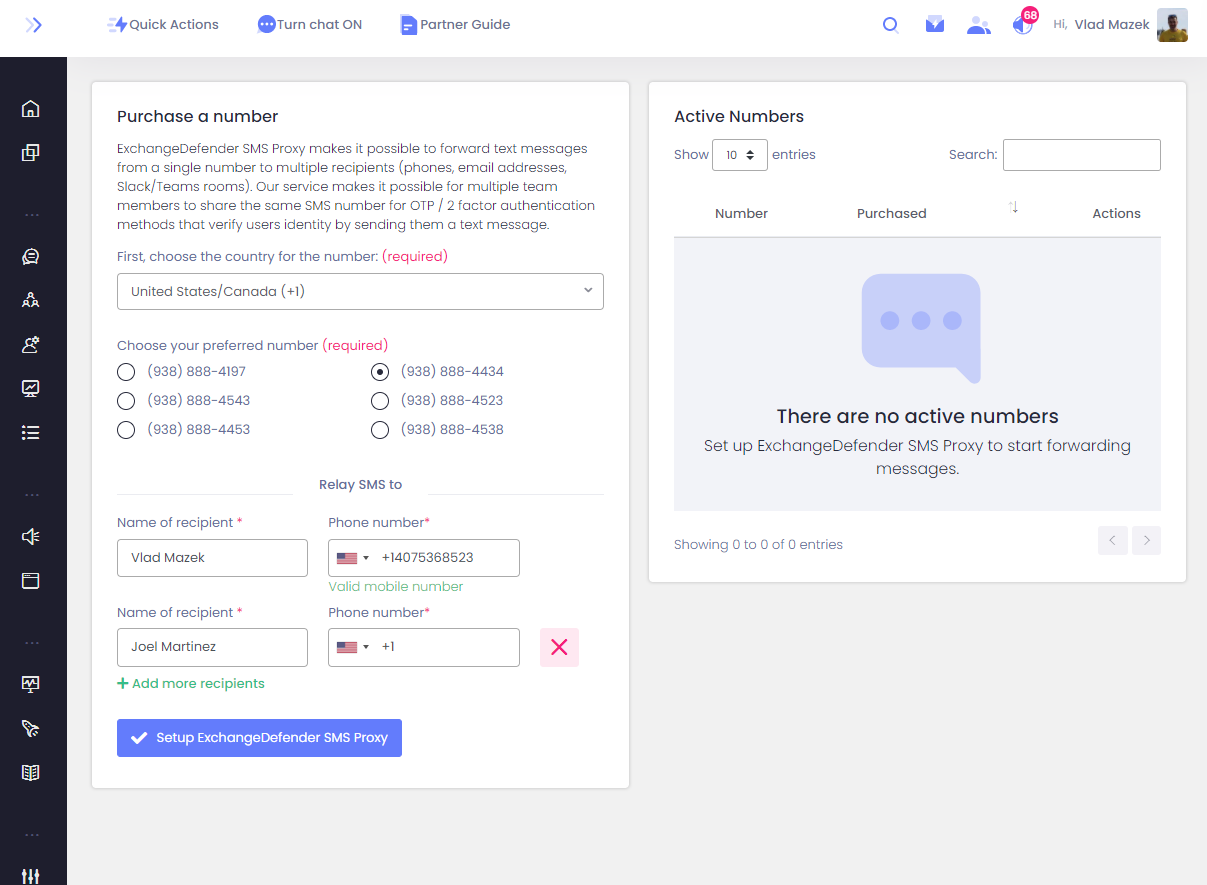 SMS Relay, our text forwarding from ExchangeDefender enables you to share a number – with your team, your family, your entire department – so when all these sites and services need to send you something to your phone to confirm your identity, you don't have to think about whose phone was used to enroll to the service. How to get started? You can sign up for it in our portal at https://support.exchangedefender.com/sms-relay.php. Just pick a number and add the phone numbers of people you want to get a copy of the message. That's it. It is currently in beta, and is free – all future users will need to pay just $5 per month for the number, and you can have it forwarded to five cell phones.
Sales and Marketing Collateral
We believe first impressions are crucial to winning business from prospective clients. ExchangeDefender Marketing offers the right mix of both digital and print collateral to help you sell better. The marketing collateral available to you is complimentary as part of your partner program benefits. We currently have a library of sales sheets and brochures for each solution that is available for download. The library is updated several times a year. Be sure to discover our marketing documents designed to help you seal the deal.
Bypass Email Addresses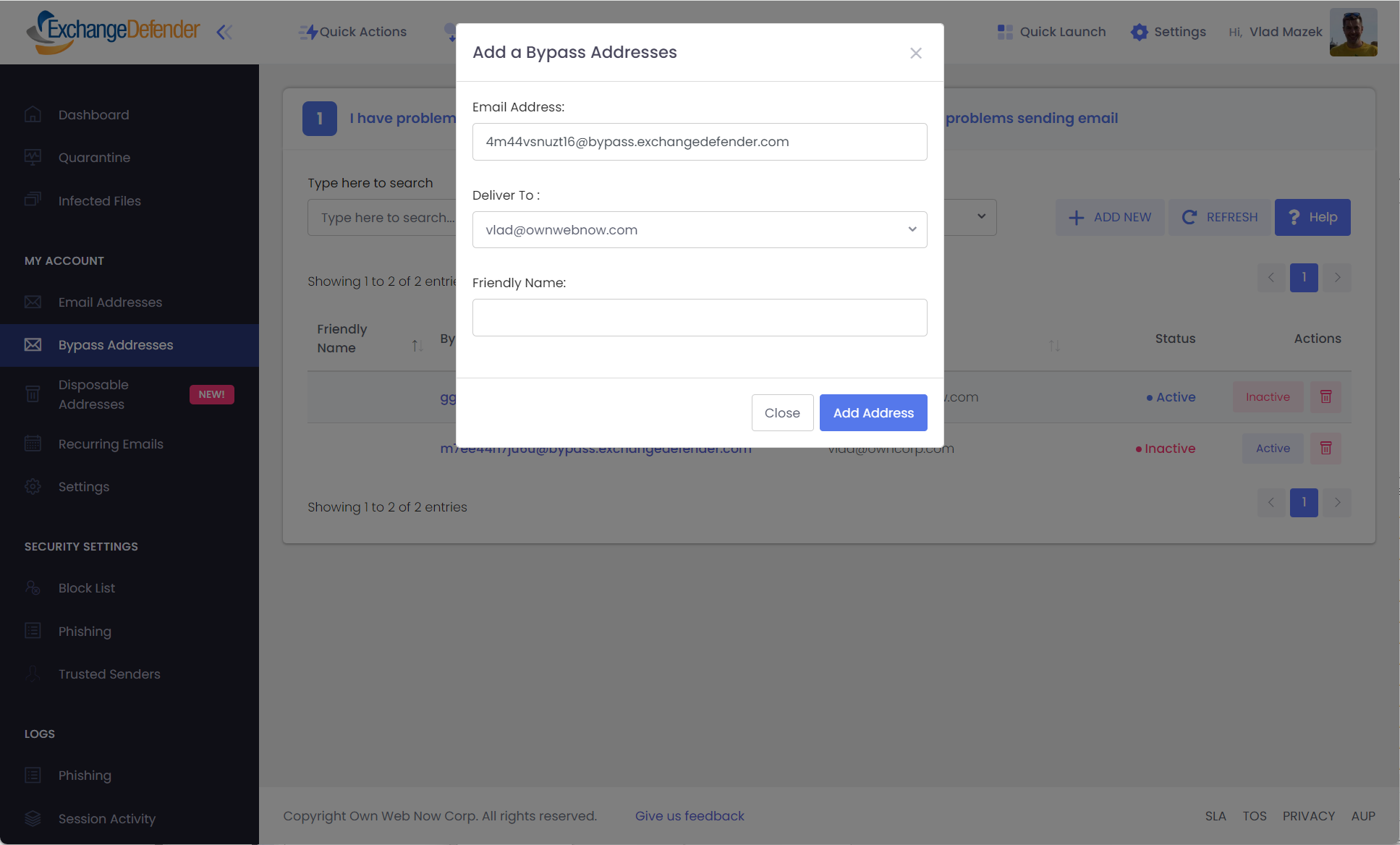 A bypass email address is a disposable email that is used for specific communication purposes. They are free, simple to setup, mask your real email address, and they bypass all security policies. The system will generate a random disposable email address. Disposable addresses are private and secure. Any mail delivered is automatically redirected to the real address previously selected. This feature is available to all ExchangeDefender Pro clients, setup now with our how-to guide.