We're moving things around a little to make the platform easier to use and to expose more of the ExchangeDefender security settings. The threats are only getting worse and we need to be more flexible in order to protect you.
Over the next few blog posts we will be introducing you to a more polished ExchangeDefender look as we consider user feedback and change around the overall user experience. It's no secret that we've been making ExchangeDefender friendlier and friendlier and I can't wait to reveal why… soon.
In the meantime, allow me to introduce you to the ExchangeDefender Advanced Settings. These settings are controlled under the Domain Administrator section of https://admin.exchangedefender.com: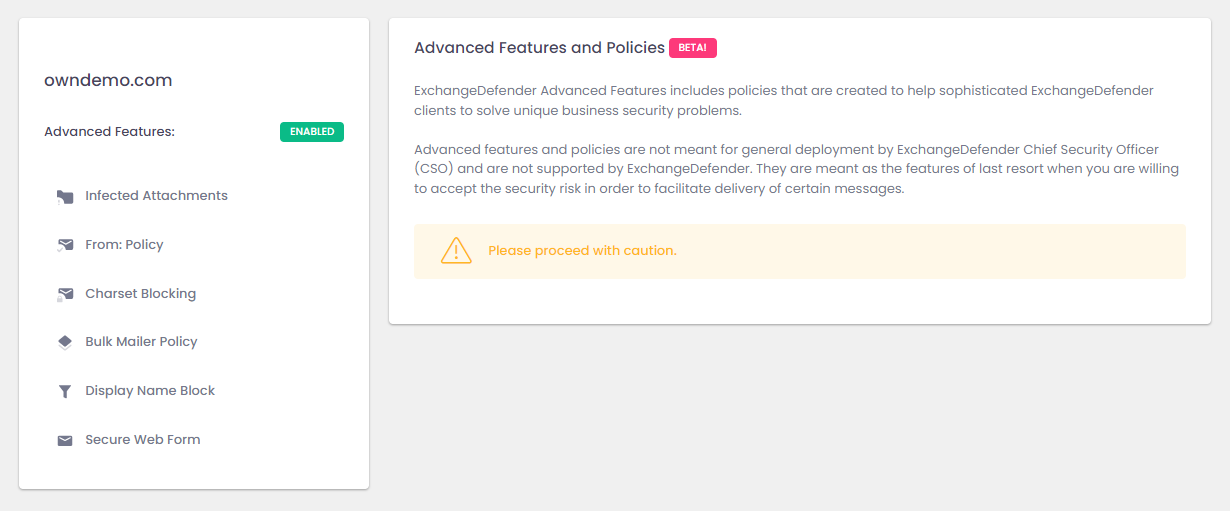 ExchangeDefender helps bridge the need for security and productivity: If the security tool is too convoluted, takes too many clicks, features lots of paragraphs instead of intuitive controls — it's simple to see why casual users get their security compromised and experience nothing but frustration just trying to get to their email.
We're changing all that and look forward to introducing you to the new ExchangeDefender shortly.
In January 2021 we launched *our oAuth implementation* to help clients get rid of passwords. On May 19th, 2022 our legacy systems (existing email/txt 2FA/MFA) will be shut down and all ExchangeDefender services will rely on oAuth for authentication. Clients will not see a major difference and will login the same way they always have at https://admin.exchangedefender.com:
The new authorization backend will help improve the security of all users that rely on ExchangeDefender to keep them safe: better password policies, no need to reauthenticate every time you visit our services, support for hardware authentication devices and tokens, support for software authentication such as Google/Microsoft/Authy authenticator solutions, and a lot more.
The era where someone can get access to all your data just by guessing or hacking your password is coming to an end. More importantly, industry standards and cybersecurity insurance underwriters are requiring 2FA/MFA and this is a huge opportunity for our partners to deploy a more secure access to the arguably most insecure and public endpoint in every organization: email.
We look forward to keeping all your data secure and your users safe from dangerous email exploits.